LAUNCH
It all starts here...
College ACCESS - lAUNCH
Scholars join College Access: Launch during their junior year of high school. During this first stage, we support our Scholars as they apply to colleges, enroll in a best match-fit college of their choice, and begin building their leadership skills.
We match each Scholar with a professional college counselor for 8 one-on-one counseling sessions, guide them through a specialized curriculum of college access workshops, and place them in a mentoring cohort with 3-4 experienced adult mentors and 6-7 Scholar peers.
Through this comprehensive support system, Scholars submit up to six applications to best match-fit colleges from our list of more than 175 college partners, in addition to any other institutions they choose. In October, our college partners come to Chicago for our annual Onsite Admissions Forum. Scholars complete up to 6 one-on-one interviews with admissions officers, receiving early admissions decisions, scholarships, and early evaluation feedback. Through this process, many Chicago Scholars are admitted to their top-choice colleges long before most students have applied.
We then help Scholars through the decision, financial aid, and enrollment processes to ensure they begin college in the fall following their high school graduation.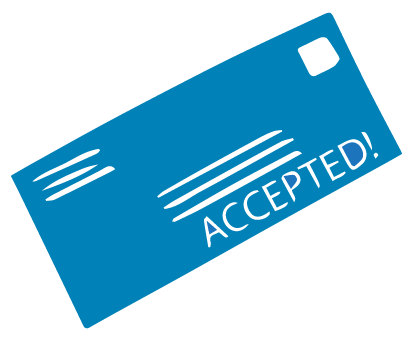 At Onsite, the Class of 2022 received 2,000 acceptances and were awarded more than $64 million in merit aid
At Onsite 2017, the Class of 2022 received 2,000 acceptances and were awarded more than $64 million in merit aid
The Class of 2022 represents 75 neighborhoods and 105 high schools in Chicago
The Class of 2022's average unweighted GPA is 3.69
LIFT
Persistence is key...
College Success - lift
Scholars begin College Success: Lift at the end of their senior year of high school. This phase focuses on the transition into college and persistence through college graduation. Scholars utilize experiential learning, supportive relationships, and leadership development opportunities that empower them to practice self-advocacy and utilize their networks in college.
We kick off the College Success phase with an annual College Transition Retreat, connect Scholars with peers from their college or region, and match freshman Scholars with peer mentors to help them through the critical first year on campus. Our Success Team stays connected to Scholars via phone, email, text messages, social media, and in-person campus visits. Each fall, the College Success Team embarks on a series of campus visits, where they organize social events for Scholars and meet one-on-one.
While in college, Scholars have exclusive access to paid summer internship opportunities and career exploration activities. If a Scholar faces a financial gap or emergency, they can apply for gap scholarships, emergency funding, travel vouchers, or a grant to cover the costs of study abroad or an unpaid internship.
Campuses Visited by Team Lift since Fall 2016
LEAD
Chicago's future leaders...
COLLEGE TO CAREERS - LEAD
During College to Careers: Lead, our career planning and leadership training intensifies to help Scholars transition successfully into the workforce. College juniors, seniors and recent graduates can request a Career Mentor - a professional in their industry of choice - to guide them through career research and planning and connect them with opportunities.
Career workshops and one-on-one coaching sessions help Scholars explore career paths, write strong resumes and cover letters, and build interview and networking skills.
Through our network of partner organizations and businesses across Chicago, Scholars are offered job shadowing, internships, and full-time employment opportunities.
Our goal is to provide the resources, training, and network to help Scholars enter the workforce and become leaders in their field. Scholars have access to networking events, professional round tables, and our network of career partners.
Career Partners offer special opportunities for Scholars
Alumni participate on the alumni leadership council
Scholars attend first look company exploration and career fair
Scholars have graduated college and become alumni