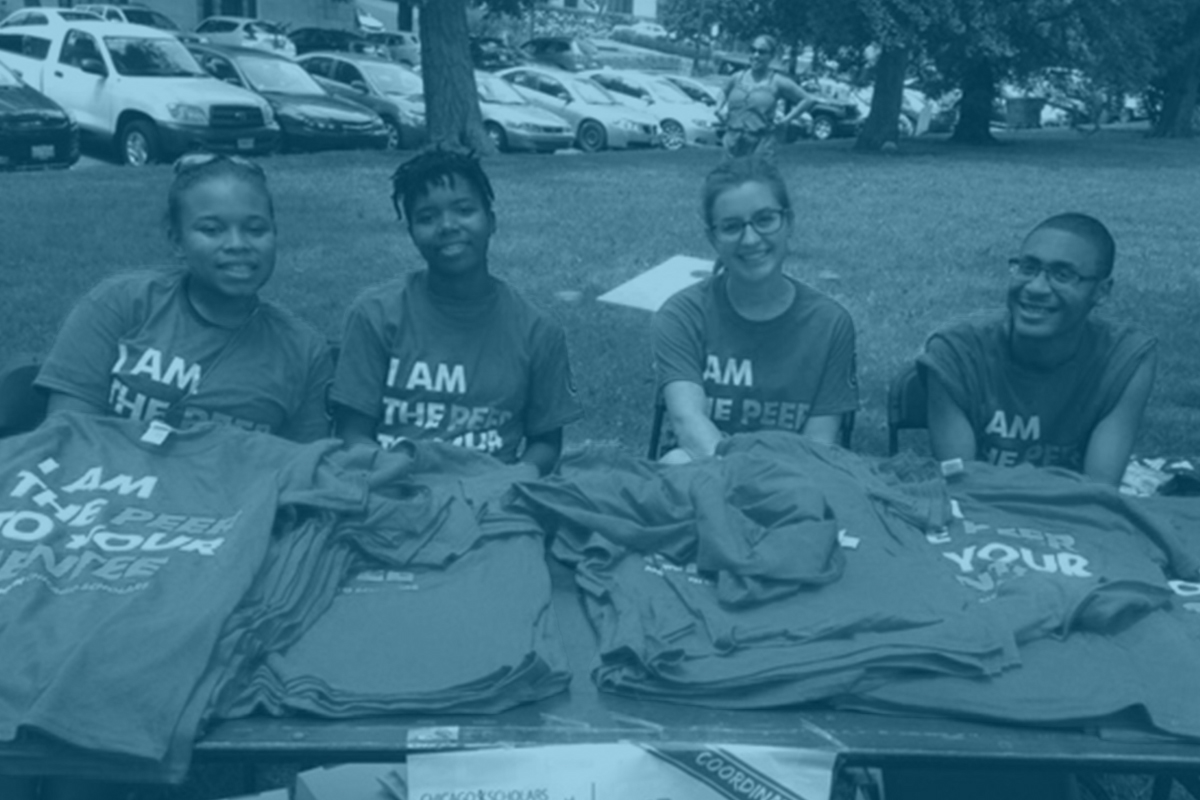 REach back and grow as a leader
You remember your first year of college - it was exciting, fun and tough, and a bit overwhelming at times, too. If you are a sophomore, junior or senior in college, reach back to help a Scholar just starting their college journey for the first time.
Peer Mentors undergo training in order to coach their mentees through the academic & social challenges they may face during their first year of college. Peer Mentors are leaders on their campuses and passionate about providing support and guidance for the newest members of the Chicago Scholars family.
Peer Mentors make a one-year commitment to the program, but many decide to continue as Peer Mentors for their entire college career. Their role is key in helping to maintain personal connections to Scholars on campus. They serve as student liaisons and keep staff informed about campus challenges that may impact a Scholar's ability to successfully persist and graduate from college.
Peer Mentors are expected to:
Serve as a positive role model and resource for up to five college freshman mentees, either on their campus ("on-campus mentor") or on another campus in the same region ("virtual mentor")

Meet with their group of mentees at least once per month throughout the school year

On-campus mentors will meet with their group of mentees in person

Virtual mentors will meet with their mentees via phone call or video (FaceTime, Skype)

Participate in summer training

Complete monthly evaluations to notify Team Lift of any challenges, concerns, or successes

Commit approximately 3-4 hours per month to the role

Mentors have the opportunity to receive a stipend if they meet all requirements of the program
Qualifications:
Rising sophomore, junior, senior, or 5+ year senior
In good academic standing, 2.5 GPA and above preferred
Enrolled at their college/university for the entire academic year
Good interpersonal and communication skills; excellent time management skills; interest in building leadership skills
Excellent follow-through and responsiveness – mentors must be able to commit to supporting five mentees throughout the entire school year
Program Timeline:
June: Scholars apply to be peer mentors; Team Lift reviews applications, selects mentors, and notifies mentors
July: Mentors are matched with mentees and notified if they will serve as an on-campus mentor, or virtual mentor
August: Mentors introduce themselves to mentees
August through May: Mentors meet with mentees once per month to check-in, offer guidance and support, and ensure mentees are having a great first year of college